About Us
The Bilash is a Indian takeaway in Essex. Why don't you try our Madras or Balti Tikka Pathia?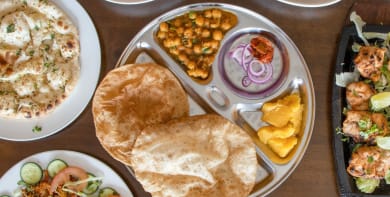 Reviews
121 reviews
Deana
"Food was delicious, lamb really tender. Tasted fresh & the food was still really hot on delivery so big thumbs up!"
17/09/2020
Trevor
"Excellent food piping hot"
13/09/2020
michael
"Food was excellent and came out on time. Had my hands full with wine I had picked up and one of the staff asked if I needed a hand carrying the food to me car, which was a nice touch."
26/08/2020
Menu
Dansak Chicken Tikka
Cooked with lentils in a fairly hot, sweet & sour sauce. Served with pilau rice
£7.15
Dansak Lamb Tikka
Cooked with lentils in a fairly hot, sweet & sour sauce. Served with pilau rice
£7.15
Dansak Chicken
Cooked with lentils in a fairly hot, sweet & sour sauce. Served with pilau rice
£6.50
Dansak Lamb
Cooked with lentils in a fairly hot, sweet & sour sauce. Served with pilau rice
£6.50
Dansak Prawn
Cooked with lentils in a fairly hot, sweet & sour sauce. Served with pilau rice
£6.75
Dansak King Prawn
Cooked with lentils in a fairly hot, sweet & sour sauce. Served with pilau rice
£9.95
Dansak Vegetable
Cooked with lentils in a fairly hot, sweet & sour sauce. Served with pilau rice
£5.50
Pathia Chicken Tikka
Well spiced, cooked in a fairly hot, sweet & sour thick gravy. Served with pilau rice
£7.50
Pathia Lamb Tikka
Well spiced, cooked in a fairly hot, sweet & sour thick gravy. Served with pilau rice
£7.50
Pathia Chicken
Well spiced, cooked in a fairly hot, sweet & sour thick gravy. Served with pilau rice
£6.95
Pathia Lamb
Well spiced, cooked in a fairly hot, sweet & sour thick gravy. Served with pilau rice
£6.50
Pathia Prawn
Well spiced, cooked in a fairly hot, sweet & sour thick gravy. Served with pilau rice
£6.95
Pathia King Prawn
Well spiced, cooked in a fairly hot, sweet & sour thick gravy. Served with pilau rice
£9.95
Pathia Vegetable
Well spiced, cooked in a fairly hot, sweet & sour thick gravy. Served with pilau rice
£6.50
Curry Chicken
Medium, saucy
£5.95
Curry Prawn
Medium, saucy
£5.95
Curry King Prawn
Medium, saucy
£8.95
Curry Chicken Tikka
Medium, saucy
£6.95
Curry Lamb Tikka
Medium, saucy
£6.95
Madras Chicken
Fairly hot
£5.95
Madras King Prawn
Fairly hot
£8.95
Madras Chicken Tikka
Fairly hot
£6.95
Madras Lamb Tikka
Fairly hot
£6.95
Bhuna Chicken
Very spicy but medium
£5.95
Bhuna Lamb
Very spicy but medium
£6.95
Bhuna Prawn
Very spicy but medium
£5.95
Bhuna King Prawn
Very spicy but medium
£8.95
Bhuna Chicken Tikka
Very spicy but medium
£6.95
Bhuna Lamb Tikka
Very spicy but medium
£6.95
Vindaloo Chicken
Very hot
£5.95
Vindaloo King Prawn
Very hot
£8.95
Vindaloo Chicken Tikka
Very hot
£6.95
Vindaloo Lamb Tikka
Very hot
£6.95
Phall Chicken
Extremely hot
£5.95
Phall Prawn
Extremely hot
£5.95
Phall King Prawn
Extremely hot
£8.95
Phall Chicken Tikka
Extremely hot
£6.95
Phall Lamb Tikka
Extremely hot
£6.95
Rogan Josh Chicken
Medium with tomatoes
£5.95
Rogan Josh Lamb
Medium with tomatoes
£6.95
Rogan Josh Prawn
Medium with tomatoes
£5.95
Rogan Josh King Prawn
Medium with tomatoes
£8.95
Rogan Josh Chicken Tikka
Medium with tomatoes
£6.95
Rogan Josh Lamb Tikka
Medium with tomatoes
£6.95
Dupiaza Chicken
Medium with onions & peppers
£5.95
Dupiaza Lamb
Medium with onions & peppers
£6.95
Dupiaza Prawn
Medium with onions & peppers
£5.95
Dupiaza King Prawn
Medium with onions & peppers
£8.95
Dupiaza Chicken Tikka
Medium with onions & peppers
£6.95
Dupiaza Lamb Tikka
Medium with onions & peppers
£6.95
Korma Chicken
Mild & creamy
£5.95
Korma Prawn
Mild & creamy
£5.95
Korma King Prawn
Mild & creamy
£8.95
Korma Chicken Tikka
Mild & creamy
£6.95
Korma Lamb Tikka
Mild & creamy
£6.95
Malaya Chicken
Mild with pineapple
£5.95
Malaya Lamb
Mild with pineapple
£6.95
Malaya Prawn
Mild with pineapple
£5.95
Malaya King Prawn
Mild with pineapple
£8.95
Malaya Chicken Tikka
Mild with pineapple
£6.95
Malaya Lamb Tikka
Mild with pineapple
£6.95
Ceylon Chicken
Hot with coconut
£5.95
Ceylon Lamb
Hot with coconut
£6.95
Ceylon Prawn
Hot with coconut
£5.95
Ceylon King Prawn
Hot with coconut
£8.95
Ceylon Chicken Tikka
Hot with coconut
£6.95
Ceylon Lamb Tikka
Hot with coconut
£6.95
Set Meal for One
Starters:
Seekh kebab OR chicken tikka
Mains:
Chicken tikka masala OR chicken tikka bhuna
Sides:
Bombay potato
1 Pilau rice
1 Plain naan
Comes with fresh salad & poppadom
£12.95
Set Meal A for Two
Starters:
Shami kebab
Prawn puri
Mains:
Lamb pasanda
Chicken bhuna
Sides:
Mushroom bhaji
Bombay potato
2 Pilau rice
1 Plain naan
Comes with fresh salad & poppadom
£23.95
Set Meal B for Two
Starters:
Rubi tikka
Seekh kebab
Mains:
Lamb tikka
Half tandoori chicken
Sides:
Mushroom bhaji
Bombay potato
2 Pilau rice
1 Plain naan
Comes with fresh salad & poppadom
£23.95
Set Meal for Three
Starters:
Lamb tikka
Tandoori chicken
Shami kebab
Mains:
Chicken jalfrezi
Butter chicken
King prawn bhuna
Sides:
Mixed vegetable curry
Mushroom bhaji
3 Pilau rice
1 Peshwari naan
1 Plain naan
Comes with fresh salad & poppadom
£35.95
Bilash Special Set Dinner For Two
Poppadoms
Onion bhaji
Chicken tikka masala
Balti chicken OR lamb
Bombay potato
2 Pilau rice
1 Naan bread
Excluded from discounts & special offers
Sunday to Thursday
£16.95
Sag Chicken
Medium hot with spinach
£6.95
Sag Lamb
Medium hot with spinach
£6.95
Prawn Sag
Medium hot with spinach
£6.95
Balti Bhuna Chicken
Medium hot
£7.50
Balti Bhuna Lamb
Medium hot
£7.50
Balti Dupiaza Chicken
Medium hot with fried onions
£7.50
Balti Dupiaza Lamb
Medium hot with fried onions
£7.50
Balti Rogan Josh Chicken
Medium hot with fried tomatoes
£7.50
Balti Rogan Josh Lamb
Medium hot with fried tomatoes
£7.50
Balti Pathia Chicken
Fairly hot, sweet & sour
£7.50
Balti Pathia Lamb
Fairly hot, sweet & sour
£7.50
Balti Jalfrezi Chicken
Very hot
£7.50
Balti Jalfrezi Lamb
Very hot
£7.50
Balti King Prawn
Medium hot
£10.95
Balti Tikka Masala Chicken
Fairly mild
£9.95
Balti Tikka Masala Lamb
Fairly mild
£9.95
Balti Tikka Dupiaza Chicken
Medium hot
£7.50
Balti Tikka Dupiaza Lamb
Medium hot
£7.50
Balti Tikka Rogan Josh Chicken
Medium hot
£7.50
Balti Tikka Rogan Josh Lamb
Medium hot
£7.50
Balti Tikka Pathia Chicken
Fairly hot, sweet & sour
£7.95
Balti Tikka Pathia Lamb
Fairly hot, sweet & sour
£7.95
Bilash Special Balti
Medium hot
£8.95
Balti Vegetable
Medium hot
£6.50
Mixed Vegetable Bhaji
Fairly dry
£2.95
Mixed Vegetable Korma
Very mild
£3.95
Saag Bhaji
Spinach, garlic & onions
£2.95
Saag Aloo
Potato & spinach
£2.95
Aloo Gobi
Potato & cauliflower
£2.95
Bhindi Bhaji
Okra cooked dry
£2.95
Chilli Potato
Fairly hot with chilli
£3.50
Tarka Daal
Lentils with fried garlic
£2.95
Saag Ponir
Spinach with Indian cheese
£3.95
Garlic Chicken Tikka Korahi
£7.50
Tandoori Chicken (Full)
On the bone (4 pieces)
£10.35
Tandoori Chicken (Half)
On the bone (2 pieces)
£6.50
Garlic Chicken Tikka Main
Lightly spiced & marinated in garlic sauce
£6.95
Tandoori Lamb Chop
On the bone
£8.95
Rubi Tikka Main
Chicken marinated in herbs, cooked without adding any colouring
£6.95
Tandoori Salmon Tikka
Marinated with fresh herbs, spices then cooked in clay oven
£10.95
Tandoori Mixed Grill
Served with naan
£9.95
Tandoori Shashlik Chicken
Cooked in clay oven with green peppers, tomatoes & onions
£7.95
Tandoori Shashlik Lamb
Cooked in clay oven with green peppers, tomatoes & onions
£7.95
Paneer Shashlik
Indian cheese
£7.50
Tandoori King Prawn Shashlik
Succulent king prawns cooked in clay oven with chunks of tomatoes, pepper & onions
£10.50
Chicken Omelette
Served with chips, peas & tomatoes
£5.95
Chef's Special Biryani
Tandoori chicken, mince meat topped with egg
£9.50
Bilash Special Biryani
Chicken, lamb & prawn
£9.50
Royal Starter For 2
Seekh kebab, king prawn, meat samosa, chicken tikka & onion bhaji
£11.95
Chicken Tikka Roll
Chicken tikka pieces wrapped in naan bread with salad
£4.50
Seekh Kebab Roll
Seekh kebab wrapped in naan bread with salad
£4.50
Lamb Roll
Lamb with onions, potatoes, coriander wrapped in puri bread
£4.95
Tikka Starter Chicken
Marinated with herbs & spices, cooked in clay oven
£3.95
Tikka Starter Lamb
Marinated with herbs & spices, cooked in clay oven
£3.95
Quarter Tandoori Chicken
On the bone
£3.50
Rubi Tikka
Chicken marinated in herbs, cooked without adding any colouring
£3.50
Garlic Chicken Tikka
Lightly spiced & marinated in garlic sauce
£3.95
Seekh Kebab
Minced lamb pungently spiced & then cooked in clay oven
£3.50
Reshmi Kebab
Medium spiced minced steak fried with omelette
£3.95
Shami Kebab
Medium spiced minced steak shallow fried
£3.50
King Prawn Butterfly
Deep fried butterfly, shaped king prawn covered in breadcrumbs, mind & egg
£4.45
Prawn with Puree
Cooked with rich sauce, served with a lightly fried bread
£3.95
Pakora Starter Chicken
Pieces of chicken buttered & deep fried
£2.95
Pakora Starter Vegetable
Pieces of chicken buttered & deep fried
£2.95
Cucumber Raita
Homemade yoghurt with cucumber
£1.50
Peshwari Naan
Sweet bread stuffed with fruits, coconut & almond
£2.75
Stuffed Naan
With vegetables
£2.75
Paratha
Fried with butter
£2.75
Stuffed Paratha
With vegetables
£2.95
Rubi Tikka Madras
Fairly hot
£7.50
Rubi Tikka Vindaloo
Very hot
£7.50
Rubi Tikka Dupiaza
Medium
£7.50
Rubi Tikka Rogan Josh
Medium
£7.50
Rubi Tikka Masala
Fairly hot
£7.95
Rubi Tikka Dansak
Fairly hot
£7.95
Rubi Tikka Pathia
Fairly hot
£7.95
Rubi Tikka Jalfrezi
Very hot
£7.95
Rubi Tikka Korma
Very mild
£7.95
Special Fried Rice
With egg & peas
£2.95
Vegetable Rice
Fried with mixed vegetables
£2.95
Keema Rice
Fried with minced meat
£3.25
Ghee Bhat
Buttered rice with onions
£2.50
Tikka Masala Chicken
Very mild cooked with coconut, almond & cream
£7.50
Tikka Masala Lamb
Very mild cooked with coconut, almond & cream
£7.50
Butter Chicken
Cooked with butter & fresh cream
£7.50
Butter Lamb
Cooked with butter & fresh cream
£7.50
Pasanda Chicken
Cooked with fresh cream & pistachio, in a mild sauce
£7.50
Pasanda Lamb
Cooked with fresh cream & pistachio, in a mild sauce
£7.50
Chicken Tikka Chilli Masala
Fairly hot, green chillies, fresh herbs & spices with masala sauce
£7.50
Palak Mirchi Murgh
Chicken tikka cooked with green chilli, garlic, tomatoes & spinach
£7.95
Special Rosti Lamb Chops
Cooked in tandoori clay oven, then cooked with green peppers, red peppers, tomatoes, coriander & onions in a sweet chilli sauce
£11.95
Nawabi Chicken
Lovers beware, aphrodisiac. Chicken OR lamb cooked in a chilli sauce full of flavour & aroma
£7.95
Nawabi Lamb
Lovers beware, aphrodisiac. Chicken OR lamb cooked in a chilli sauce full of flavour & aroma
£7.95
Lemoni Cocktail
Chicken, lamb & king prawn cooked in a sweet, spicy chilli sauce
£10.95
Taste of Goa
Chicken sprinkled with fresh herbs, barbecued & cooked with minced lamb
£7.95
Tasty Fish
Fresh fish seasoned with mustard seeds, cumin & garlic cooked in a thick sauce made from tomatoes. Authentic Indian fish curry
£7.95
Garlic Chicken
Medium dish cooked in thick sauce with extra garlic
£7.95
Garlic Lamb
Medium dish cooked in thick sauce with extra garlic
£7.95
Garlic Chilli Chicken
With garlic, green chillies, fairly hot cooked in thick spicy sauce
£7.95
Garlic Chilli Lamb
With garlic, green chillies, fairly hot cooked in thick spicy sauce
£7.95
Hashini Chicken
Fairly hot, cooked with green peppers, onions & creamy sauce
£8.95
Hashini Lamb
Fairly hot, cooked with green peppers, onions & creamy sauce
£8.95
Sagrani Chicken
Fairly hot, cooked with coconut, cream & spinach
£8.95
Sagrani Lamb
Fairly hot, cooked with coconut, cream & spinach
£8.95
Murgh Masala On the Bone
Chicken on OR off the bone with mince meat & boiled egg
£8.95
Murgh Masala Off the Bone
Chicken on OR off the bone with mince meat & boiled egg
£8.95
Shashlik Bhuna Chicken
Marinated chicken OR lamb cooked with roasted green peppers, tomatoes & onions, then cooked with medium bhuna sauce
£8.95
Shashlik Bhuna Lamb
Marinated chicken OR lamb cooked with roasted green peppers, tomatoes & onions, then cooked with medium bhuna sauce
£8.95
Chicken Shugonda
Pieces of breast chicken stuffed with mint, coriander & lemongrass with a spicy, medium sauce
£8.50
Lamb Sikundari
Lamb shank slow cooked with chopped onions, ginger, garlic, tomatoes & fresh coriander
£11.50
Chicken Aubergine
Chicken pieces cooked with blend of spices, fresh herbs & aubergine, in a fairly hot sauce
£8.50
Gosht Katta
Lamb pieces cooked with ginger, baby spinach & tomato with medium spices & fresh herbs
£8.95
Royal King Prawn
Fairly hot, our Chef's own Goan style recipe. King prawn in shell with yoghurt, baby aubergine & medium spices
£9.95
Dansak Sauce
Fairly hot, sweet & sour
£2.95
Pathia Sauce
Hot, sweet & sour
£3.15
Masala Sauce
Fairly hot, mild, creamy with coconut
£3.15
Pasanda Sauce
Very mild with almond & mango pulp
£3.15
Korma Sauce
Very mild with coconut & cream
£2.95
Contact Us
Find Us
19 Southend Road,Grays, Essex, RM175NH
We deliver to
RM15, RM16, RM17, RM18